Introduction :
The readers of this web page are welcomed by the faculty of the Department of Geology. The Department of Geology is established in the year 1986. The department follows the discipline but at the same time has a cordial atmosphere filled with affection. Our identity in the campus is in terms of the work culture. Value education is provided to the students by the well experienced, highly qualified and devoted staff. The teachers, with illustrious qualities like sincerity, hard working nature, skilled at instrumental and analytical work, researchers of international repute, computer competent, workaholic, are student focused and works towards the cause. The courses offered have tremendous scope in its individual discipline. All the activities done in the department tries to improve the overall personality of the student. The main objectives of the department are:
i) To understand the discoveries and exploitation of the Earth's material for the benefit of Human civilization.
ii) To help the students in generation of self employment schemes in Earth Sciences
Strong points of the department :
Student Focused Teaching

Curricula of National Standard

Well qualified, experienced and devoted staff

Good Class Rooms, Laboratories, Museum and with e-learning facilities.

Skill improvement activities: Home Assignment, Seminar, Dissertation and Field Tour

Special Counseling at individual level
Courses offered (with the intake capacity) :
| | | | |
| --- | --- | --- | --- |
| Sr. No. | Name of the Course | Duration | Intake Capacity |
| 1 | B.Sc. Geology | Graduate - | 20 |
| 2 | M.Sc. Environmental Science | Post graduate-2Years | 20 |
| 3 | Ph.D. in Geology | Research Programme -3Years | As per vacancy |
Admission/Eligibility/Criteria/ Procedure :
1. for UG : HSC
2. for P.G. : B.Sc.
3. for Ph.D. : M.Sc
Laboratory Facilities
The department has a Geology museum, which consists of variety of rock, minerals, ores, fossil samples, geomorphic models and self-explanatory educative charts. The department has state of the art instrumentation for geological, geochemical, geophysical, geographical and environmental studies. All these instruments are used to give hands on training to the students.
Any other facilities
Audio visual CD's, LCD Projector, Computers, GIS and other Software, Internet Facilities, Departmental Library etc is available for Students
Achievements
The department faculty members along with their regular teaching have been active in the field of research and consultancy. Both the staff members are recognised as the research Guide by S.R.T.M. University Nanded and Dr. Babasaheb Ambedkar Marathwada University, Aurangabad (Maharashtra). In recognition of valuable research contributions made by the faculty, the Department has been awarded Rs. 39 lakhs under the Research project Funds from UGC and the Department of Science and Technology, Government of India.
Four students of this department Studied B.Sc. have qualified the NET/ SLET examinations in last five years.
Faculty
Name

Phone number

And Email

Qualification

Whether Recognized

Guide for Ph.D.?, if yes, Intake Capacity

Total Ph.D. /M.Phil.

(awarded)

Total enrolment for Ph.D.

Dr.R.B. Muley

9422111904

This email address is being protected from spambots. You need JavaScript enabled to view it.

M.Sc. Geology) Ph.D

Yes

-

-

Dr Shaikh Md Babar

9890184699

This email address is being protected from spambots. You need JavaScript enabled to view it.

M.Sc (Geology) Ph.D

Yes

3

4
Research Projects
Name

Research Topics

Funding Agency

Duration

Status

Amount Sanctioned

Dr. R.B. Muley

1) Minor research project entitled "Influence of The Environment And Geological Conditions On Ground Water In Parbhani Tahsil"

U.G.C. W.R.O. Pune

2 years

Completed

4000.00

2) Major research project entitled "Assessment of Groundwater Potential, Water quality and Performance of Existing Water Harvesting Structures from Drought Prone areas of Parbhani District, Maharashtra"

U.G.C. New Delhi

3 years

(2008-11)

Completed

641800.00

Dr. Shaikh Md. Babar

1) Minor research project entitledHydrogeomorphological Analysis For Watershed Devlopment In Jintur Tahsil, Parbhani Distric, Maharashtra.

U.G.C. W.R.O. Pune

2 years

(1998-2000)

Completed

40000.00

2) Minor research project entitled "Analysis of Ground Water Quality Affected by Pollution due to Sanitary and Waste Disposals in the Stream of Pingalgad Nala in Parbhani City of Maharashtra" during 2002 – 2004.

U.G.C. W.R.O. Pune

2 years

(2002-2004)

Completed

50000.00

3) Neotectonic and geomorphic studies to reveal the palaeoseismic history of Terna River basin of Latur-Osmanabad district, Maharashtra

DST New Delhi

1 year

(2005-2006)

Completed

35000.00

4) Minor research project entitled Application of Remote Sensing and GIS for Hydrogeomorphological Studies of Tawarja River Sub-basin of Latur Districts, Maharashtra.

S.R.T.M. University Nanded

2 years

(2010-2012)

Completed

31000.00

5) Major Research Project entitled "Quaternary stratigraphy and tectono-geomorphic evolution of the Terna-Manjra River basin, Eastern Maharashtra" Sponsored by Department of Science and Technology (DST) New Delhi amount sanctioned Rs. 8,40,000=00.

D.S.T. New Delhi

3 years

(2007-10)

Completed

1020860.00

6) Major Research Project entitled "Quaternary Geology and Geomorphometric Characteristics of Godavari River Basin in Parbhani-Nanded Districts of Maharashtra." Sponsored by UGC New Delhi during amount sanctioned Rs. 7,78,600=00.

U.G.C. New Delhi

3 years

(2007-10)

Completed

819530.00

7) Major Research Project entitled Quaternary Stratigraphy and Geomorphometric Characteristics of Sindphana River Sub-basin in Beed-Parbhani Districts of Maharashtra", sponsored by UGC, New Delhi, amount sanctioned Rs. 1148800.00

U.G.C. New Delhi

3 years

(2012-14)

On going

1148800.00
Name of the students passed in Net/Set etc. (Last 5 Years)
| | | |
| --- | --- | --- |
| Sr. No. | Name of student | Level of exam |
| 1 | Sachin Ghodke | NET of UGC-CSIR |
| 2 | Dr. Bhagwan Ghute | SET |
| 3 | Kishor Deshmukh | NET UGC-CSIR |
| 4 | Shaikh Nadeem | SET |
Placement
| | | | | |
| --- | --- | --- | --- | --- |
| Sr. No. | Name | Positions held | Address | Phone No. |
| 1 | Miss Kharat A | Jr. Geologist | Prabhavai Nagar, Parbhani. | 9960160078 |
| 2 | Mr. Deshpande Krishna | Jr. Geologist | Bank colony, Parbhani | 9421914831 |
| 3 | Mr. Rahul Bamhankar | Jr. Geologist | AT Post Zari, Dist. Parbhani | |
| 4 | Dr. Ghute B.B. | Assistant Professor | Toshniwal colege, Sengaon | 7588162448 |
| 5 | Mr. Godbole M.T. | Project Fellow | S.R.T.M. Univ. Nanded | 9730486704 |
| 6 | Sachin Ghodke | Project Fellow | S.R.T.M. Univ. Nanded | |
| 7 | Kishor Deshmukh | Geologist, GSI | Hyderabad | |
| 8 | Prem Rankshtre | Geologist, GSI | Orisa | |
| 9 | Gaganan Dumne | Geologist, GSI | Gndhinagar ,Gujrath | |
| 10 | Dr. Radhakrishna Chunchekar | Technician GSI Faridabad ,Delhi. | Geological Survey of India, Faridabad, Delhi. | 8587864738 |
| 11 | Gajbhare Sachin | Geologist, GSI | | |
| 12 | Dr. Rushikesh Golekar | Assistant Professor | Department of Geology, Khare, Dhere Arts and Bhonsale Science College, Guhagar | 9423756774 |
| 13 | Bhosale Munja | Project Fellow | S.R.T.M. Univ. Nanded | |
PHOTO GALLERY
Visit of Eminent Persons to the Department
Organization of National Conference
Extension Activity: Bore well Recharge
Students Farewell function in Department
Organization of Seminar on GIS Applications
Faculty Teaching School Students in the Department
Research Work of Students in Progress
Use of Audio visual Aids and models in Teaching
Equipments in the Department
Faculty attend International conference of AOGS-2011 at Taiwan
Field Visit/Educational Tour
Pot holes in Kukdi River Bed
Ghod Dam
Sahastrakund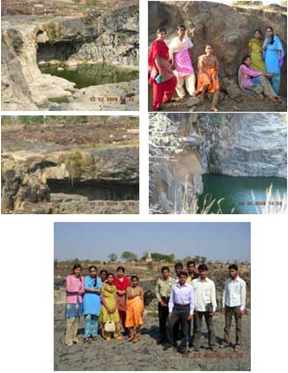 Wall magazine Publication
Conducting International Olympiad Exam for School Students
Free Joomla Lightbox Gallery